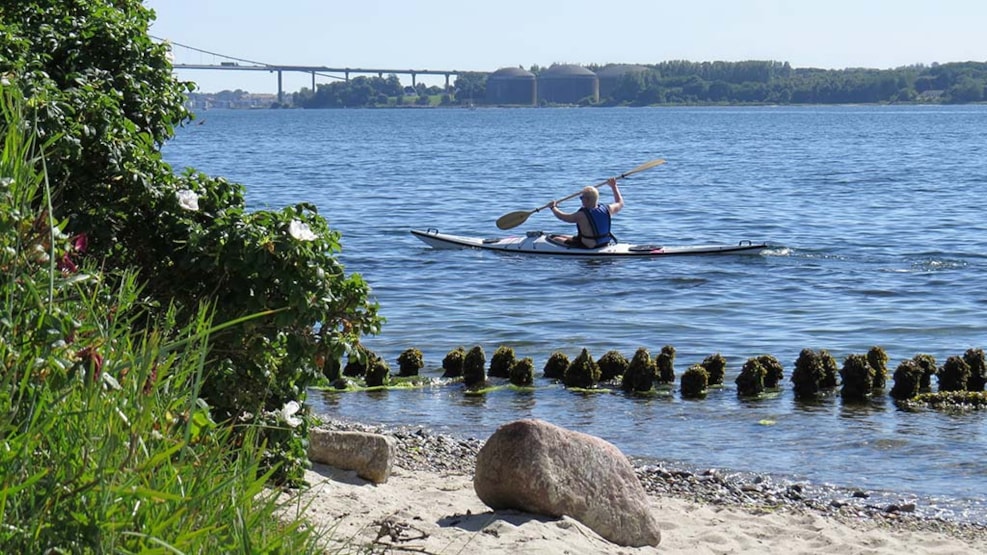 Sea Kayaking on the Little Belt (english version)
Text only available in english.
If you are a group of experienced kayakers, you can come on an exclusive tour of the Little Belt where there is an excellent chance of meeting the harbour porpoise. The experienced guide and instructor knows where these fascinating small whales can usually be found and is knowledgeable about the porpoises and other natural phenomena which you may meet along the way. 
The tour also offers excellent kayaking in strong currents and the instructor will demonstrate paddling techniques, explain about kayaking rules in the busy
waters etc. This kayaking trip is not for beginners. Focus will be the on the fantastic marine environment around us, using the kayak as a pleasurable
form of transport.
Safety
The kayakers must have a minimum of the Sea Kayaking Board's EPP 2 paddling level, or the equivalent. In addition, everyone must be competent
in basics such as saving your buddy which we will start the trip with, so that everyone is up to date with safety procedures.
NB: These trips are only available when the water temperature is over 10˚C and when weather conditions allow (about 9 months a year).
Practical information
Vends Motorik- og Naturskole provide all the necessary equipment and clothing. You need to bring swimwear (to wear under the wetsuit), a towel, water and whatever else you might need for a day on the beach.
Meeting point
We are mobile, so it is up to you.
Group size
Max. 16 persons.
Duration
2-3 hours.