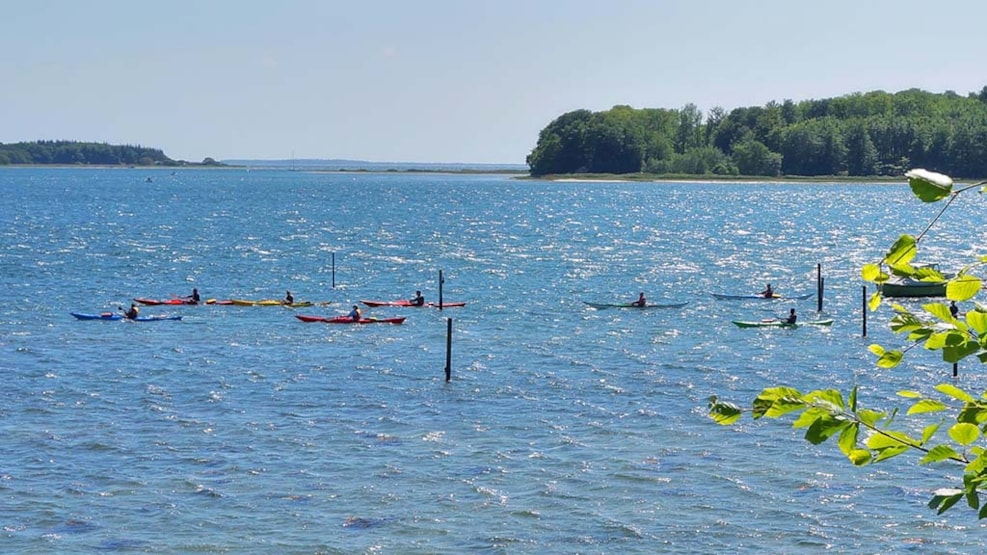 Sea Kayak for groups (in english)
Text only available in english.
A fantastic adventure is waiting for you
To row is not just taking hold of the oars to exercise – if it was just that you could just sit in a rowing machine in the fitness centre. To paddle a sea kayak brings
peace to your soul and offers an unrivalled natural experience, a feeling harmony and presence, an unusual way of socialising and a fantastic way of exercising. A
sea kayak makes it possible to move almost soundlessly through the water. You can get close to the shore in shallow water, which gives the unique opportunity of
enjoying the coastal scenery and wildlife around you from a different vantage point. Notice how the water changes colour between shades of blue and green
and how the sun sparkles on the surface of the water.Paddle out and admire the changing coastline with beautiful woods, fallen trees, gently sloping fields, and beaches that alternate between sand and stone. There is a rich bird life and occasionally a fish jumps close to your kayak, and if you are lucky, a harbour porpoise may cross your path. Prepare yourself for an unforgettable outdoor experience.
The trip starts with a few basic manoeuvres in the water and an introduction to paddling a sea kayak, so that everyone feels confident in the kayak. You will learn
how to save each other, simple techniques to manoeuvre the sea kayak and how to avoid becoming tired and sore by paddling. Then we practice what we have
learned on a short trip along the coast.
It can be challenging and nerve racking having full responsibility over a sea kayak. Each participant gets advice and instruction until they are sure of themselves
but, when all is said and done, it is up to the individual to master balance and how to paddle. Once mastered the feeling of success is reward in itself, which can
also be helpful in other aspects of one's life. Give yourself and your colleagues a fantastic experience on the waves that imparts a feeling of peace, well being and
achievement.
NB: We only paddle out when the water temperature is over 10˚C.
Practical information
Vends Motorik- og Naturskole provide all the necessary equipment and clothing. You need to bring swimwear (to wear under the wetsuit), a towel, water and
whatever else you might need for a day on the beach.
Meeting point
We are Mobile, so it is up to you
Group size
Max. 16 persons
Duration
From 1½ hours